---
---
The Wonderful 101: Remastered (New Steam Account Global)
You get your own completely new account with the game The Wonderful 101: Remastered. It is possible to change all access to your Account Steam + EMail. Full access.
After payment you will receive access to your account and access to email, on which the account was registered.
No one has installed the game on the account before. Brand new account.
Time Attack Free DLC
https://store.steampowered.com/app/1521860/The_Wonderful_101_Remastered_Time_Attack/



A new way to experience the 100-hero Unite Action spectacular The Wonderful 101: Remastered has just made the scene in the form of a free DLC game mode!
Key Features
Beat stages as fast as possible and keep an eye on the new Record Gauge to see how you're stacking up against your personal best.

Non-essential cutscenes let you blast through your stage of choice stress-free.

Upload your best time online and see how you compare to Wonderful Ones from around the world!
Wonder-Size Cadet Demo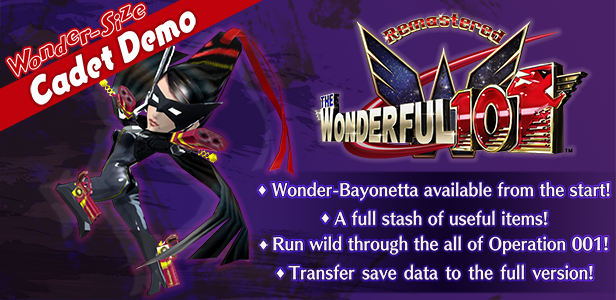 The Wonder-Size Cadet Demo for The Wonderful 101: Remastered is out now, featuring hidden team member Wonder-Bayonetta!

Enjoy a Wonder-Size TWO HOURS of content, including Platinum-level epic boss battles and a lot of in-game goodies for free!
A lot of bonuses like in-game currency and a selection of support items are also available from the start of the demo, so that even beginners can set off on this dynamic adventure fully equipped.

Best of all, you can transfer save data from the demo to the full version and pick up right back up!
Wonderful Codes
Check the Wonderful Codes down below to unlock hidden characters and lots of in-game bonuses:



https://store.steampowered.com/news/app/1190400/view/3056224118604306681
About the Game
A team of heroes from around the world must UNITE to protect the earth from vicious alien invaders! This band of 100 Wonderful Ones works together using their fantastic abilities to create a variety of forms. Whether it be a giant fist or a sharp blade, they'll use their wits and power to overcome the enemy's pitfalls and perils! And the final member of this team of courageous heroes—is you.
From PlatinumGames, creators of the Bayonetta series, ASTRAL CHAIN, NieR:Automata, and Metal Gear Rising: Revengeance, comes The Wonderful 101: Remastered! This game will be PlatinumGames' first self-published title, and is a powered-up version of The Wonderful 101, originally released by Nintendo on September 15th, 2013 as a Wii U exclusive.
The Wonderful 101: Remastered offers the unprecedented ability to control 100 heroes at once, with the flowing controls and dynamic action that are the PlatinumGames hallmark. It's all brought together by a pulse pounding tale of heroic bravery and friendship standing tall against evil, and is PlatinumGames' most ambitious offering to date.
Hideki Kamiya, director of The Wonderful 101, has supervised this remaster and added numerous improvements to ensure that this game can be more easily and thoroughly enjoyed by all and on various platforms, and with improved visuals, framerate, and loading time for an enhanced experience on all fronts.
Key Features
Over 100 unique and dazzling, each with their own backstories and emblems!


Change weapons in a flash with the "Unite Morph" system! Draw shapes to switch between swords, whips, hammers, and more to battle with strategy and flair!


Unite Morphs can be more than just weapons! Build hang gliders and bridges to cross chasms, and bounce and blast your way to great heights! Use your smarts as well as your strength to solve puzzles and persevere!


Don't forget—a hero's true calling is protection! Rescue the citizens you come across and your bravery will inspire them to UNITE UP! For a limited time, of course.


Your missions will take around the world! Through cities, across the ocean floor, deep in the jungle, and to a host of exciting locations!

Grab your controllers and try out "Multiplayer Missions", a shared-screen co-op mode that can be enjoyed by up to four players at once! Whether you'll work together for the mission or compete for the highest score is up to you and your friends.
System requirements
Minimum:
Requires a 64-bit processor and operating system

OS: WINDOWS® 7, 8, 8.1, 10

Processor: Intel(R) Core(TM) i3-7100 CPU @ 3.90GHz (4 CPUs), ~3.9GHz

Memory: 4 GB RAM

Graphics: GeForce GT 630 (VRAM 1GB)

DirectX: Version 9.0

Storage: 15 GB available space

Additional Notes: 1080p/60fps/Full Screen/Graphics setting "High"/HDR、V-Sync ON