---
---
Swords 'n Magic and Stuff (New Steam Account Global)
You get your own completely new account with the game Swords 'n Magic and Stuff. It is possible to change all access to your Account Steam + EMail. Full access.
After payment you will receive access to your account and access to email, on which the account was registered.
No one has installed the game on the account before. Brand new account.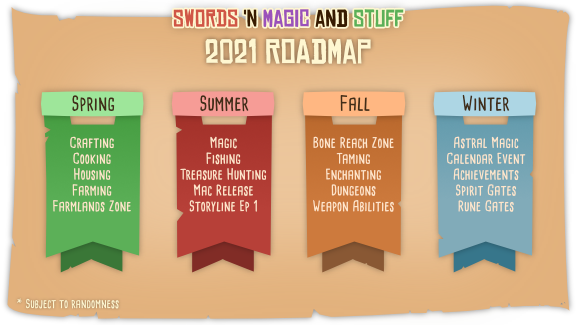 Swords 'n Magic and Stuff is a casual, multiplayer, open world RPG where you can make your own adventures with your friends!
A kingdom in need of help
Set in the fantasy continent of Tirawyn once ruled by the great king, Owynn, you start off as a humble new adventurer looking to make a name for yourself.
Since the king has fallen under a dark curse, his great Paladins have retreated from the lands where they once kept order to seek a cure. With the guardians away trouble is slowly finding its way back into the realm and you're not the only new adventurer trying to stop it.
An adventure unique to you
Explore a large, densely populated open world alone or with friends. Swords 'n Magic is a casual journey of discovery. You play a blank slate adventurer just waiting for you to carve out a destiny for them. With no classes, character levels or real restrictions, you can be whoever you want to be, use whatever weapons and items you can buy, find or loot, and play however you wish. In Swords 'n Magic and Stuff you play at your own pace with no hand-holding.
The world of Swords 'n Magic is casual and fun. Being friendly to younger or inexperienced audiences, anyone can pick up a controller and join in on the fun no matter how long each player has been playing.
A magical world to explore
From tropical islands to frozen mountain peaks, the lands of Tirawyn will be varied and interesting. With the whole world being carefully hand crafted, there's loads to explore and uncountable secrets to be found. Platform your way up the side of a building, glide off the top of mountains, traverse the great desert atop your mount. There are countless ways to explore the world of Swords 'n Magic and Stuff!
Funded and driven by our community
Swords 'n Magic and Stuff was a successfully funded Kickstarter game that owes its existence to our incredible community! We work hard to listen to the feedback of our players and implement it into the continuous development of this game.
System requirements
Minimum:
OS: Windows 7

Processor: Intel i3

Memory: 8 GB RAM

Graphics: Geforce GTX 570

Storage: 2 GB available space