---
---
Sunday Rivals (New Steam Account Global)
You get your own completely new account with the game Sunday Rivals. It is possible to change all access to your Account Steam + EMail. Full access.
After payment you will receive access to your account and access to email, on which the account was registered.
No one has installed the game on the account before. Brand new account.

SUNDAY IS FOR RIVALS
Sunday Rivals is a fresh take on the hard hitting, action-packed football games of the past. On the field, gameplay is tuned to be snappy and fun, rewarding quick thinking and creative players with dazzling open field jukes and bone crushing hits. Simplified rules, familiar controls, and a streamlined playbook make it easy for players of all skill levels to immediately jump in and have fun, while quick, addictive game sessions and deep customization will keep you coming back for more.
SEASON MODE
Season Mode lets you take the reins of a single team and guide them through the rigors of an entire season, featuring sortable player stats, league leaders, team rankings, and the ability to play or sim any game on the schedule. With support for custom teams and a handful of league and schedule options, you'll have total control to create an unforgettable season. As Early Access continues, future updates will be integrated into the mode, unlocking its full potential!
CUSTOM TEAMS & LEAGUES
You have complete access to customize your teams, including stadium and grass colors, endzone text, individual player ratings, and a slew of appearance options down to what kind of facemask and socks a player wears. If it exists in the game now, you can edit it!
HEADHUNTER
Lead your favorite team through a 4 game, single-elimination tournament while racking up points using a fantasy football-style scoring system. As you battle increasingly challenging opponents towards victory, your stats are tracked and saved, along with 8 additional scoring bonuses tuned for maximum performance! After the game, check to see if the fruits of your hard fought victory are good enough to be enshrined in the record books and celebrated for years to come.
ADDITIONAL FEATURES
Exhibition Mode - play a game against the AI or versus a friend with a second controller

Custom Skill Level - tune sliders to find the perfect balance for your play style

Variable League Sizes - choose from 8, 16, 24, or 32 teams to build your dream league

Streamlined Playbook - quick access to plays gets you back on the field fast

Quick Games - no penalties and an accelerated game clock keeps the game moving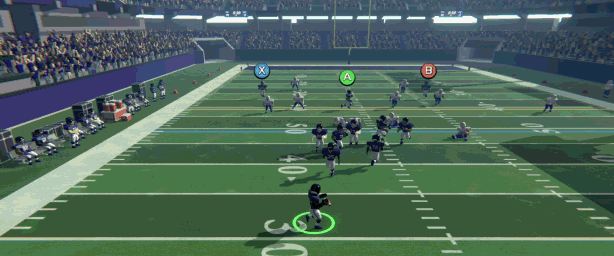 UPCOMING FEATURES PLANNED FOR v1.0
Expanded Playbooks - customize each team's playbook from an expanded pool of plays

Team Strategy - define the tendencies for each team that best utilize their roster

Weather - games will feature dynamic weather and time of day
System requirements
Minimum:
OS: Windows 7

Memory: 4 GB RAM

Storage: 500 MB available space

Additional Notes: Gamepad highly recommended