---
---
Raptor Boyfriend: A High School Romance (New Steam Account Global)
You get your own completely new account with the game Raptor Boyfriend: A High School Romance. It is possible to change all access to your Account Steam + EMail. Full access.
After payment you will receive access to your account and access to email, on which the account was registered.
No one has installed the game on the account before. Brand new account.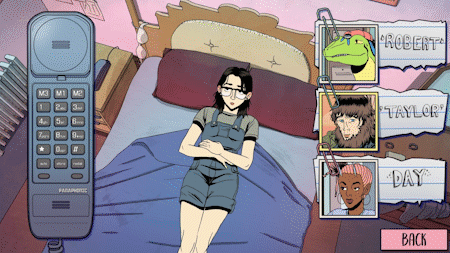 Raptor Boyfriend: A High School Romance is a dating sim about a teen girl who moves to a small secret community of cryptids. Romance a magical Fairy, a sensitive Sasquatch and a bold Velociraptor.

Live this '90s teen drama as Stella, who moves to a small town only to discover it's populated with hot Cryptid teens. In her last year of high school she's determined to try to fit in, make new friends and find romance.
Choose between three cryptid teens:

Be charmed by Day, the magical fae (fairy) and self-deprecating but talented artist.
But watch out for her spooky, ghost ex-girlfriend, who seems determined to scare you off!
Reunite with your childhood friend Taylor, the mysterious guitar-playing bigfoot.
Discover his music and try to stay out of his band drama...
Meet Robert, a fun-loving, snow-boarding, dirt biking dinosaur who may or may not do a prank on you.
He's all about the present, but his past is catching up to him.
Earn collectibles like tapes, poems, and comics by remembering key details from conversations with your crushes.
Make choices like who to call after school, who to drop off last, who to cheer up during the holidays and more to decide which cryptid you end up with.
Who do you want to laugh and cry with? Who do you want to open up to? And who do you want to share your last days of high school with?
Features:
Phone calls

Sleepovers

Make out sessions

Chill moments

Collectibles

Bonus scenes

Reading - accessible font Open Dyslexia

Multiple Endings

Cassette tapes

It's 1997, man

A Furry Boi

A Scaly Boi

A Fae Bae

A Friday the 13th Spookfest

A Totally X-Treme Dinosaur

A Vengeful Ghost

A really deep moment where you star-gaze and talk about feelings and stuff

Controller support
System requirements
Minimum:
OS: Windows 7

Processor: Intel Celeron CPU 1000M 1.80GHz

Memory: 2 GB RAM
Steam Account
ACTIVATION
1. After purchase, expect a message from the seller:
a) full access to the email to which the account was registered
b) full access to the new account
2.Go to: http://store.steampowered.com/ and download STEAM client
3.Click "Install Steam" (from the upper right corner)
4.Install and start the application, login with your Account name and Password that the Site-Games.Com sent.
5. The game will be in the Library section. Click Install and follow the Steam instructions.