---
---
Mortal Shell (New Steam Account Global)
You get your own completely new account with the game Mortal Shell. It is possible to change all access to your Account Steam + EMail. Full access.
After payment you will receive access to your account and access to email, on which the account was registered.
No one has installed the game on the account before. Brand new account.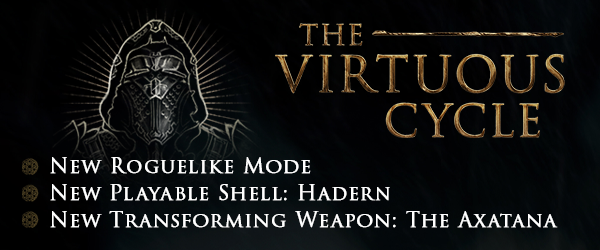 From Wednesday August 18 until August 24 01.00 PST, you can download the expansion for free on Steam. Get your copy now and keep it forever.
https://store.steampowered.com/app/1672210/Mortal_Shell_The_Virtuous_Cycle
Mortal Shell is a deep action-RPG that tests your sanity and resilience in a shattered world. As the remains of humanity wither and rot, zealous foes fester in the ruins. They spare no mercy, with survival demanding superior awareness, precision and instincts. Track down hidden sanctums of devout followers and discover your true purpose.

The dead litter this tattered landscape, but not all are without hope. The lost remains of defeated warriors are yours to discover. Awaken these Mortal Shells, occupy their bodies and significantly open your understanding to diverse masteries of combat.
Your path is guarded by desperate adversaries, devoted to inscrutable gods. Behold creatures both pitiable and grotesque, but do not let fear halt your journey. Muster your courage and face them down.
Combat is strategic and deliberate. You must commit your sword only when an opportunity opens. Calculate your parries to unleash devastating counterblows. Temporarily entomb your Mortal Shell in stone to block attacks, or play aggressive and use your stone-form to add brutal weight to your own sword swings.
System requirements
Minimum:
Requires a 64-bit processor and operating system

OS: Windows 7 SP1 or newer

Processor: Intel Core i5-4590 or AMD FX 8350

Memory: 8 GB RAM

Graphics: NVIDIA GTX 970 or AMD Radeon R9 290

Storage: 12 GB available space
Steam Account
ACTIVATION
1. After purchase, expect a message from the seller:
a) full access to the email to which the account was registered
b) full access to the new account
2.Go to: http://store.steampowered.com/ and download STEAM client
3.Click "Install Steam" (from the upper right corner)
4.Install and start the application, login with your Account name and Password that the Site-Games.Com sent.
5. The game will be in the Library section. Click Install and follow the Steam instructions.