---
---
Mech Armada (New Steam Account Global)
You get your own completely new account with the game Mech Armada. It is possible to change all access to your Account Steam + EMail. Full access.
After payment you will receive access to your account and access to email, on which the account was registered.
No one has installed the game on the account before. Brand new account.
Development Roadmap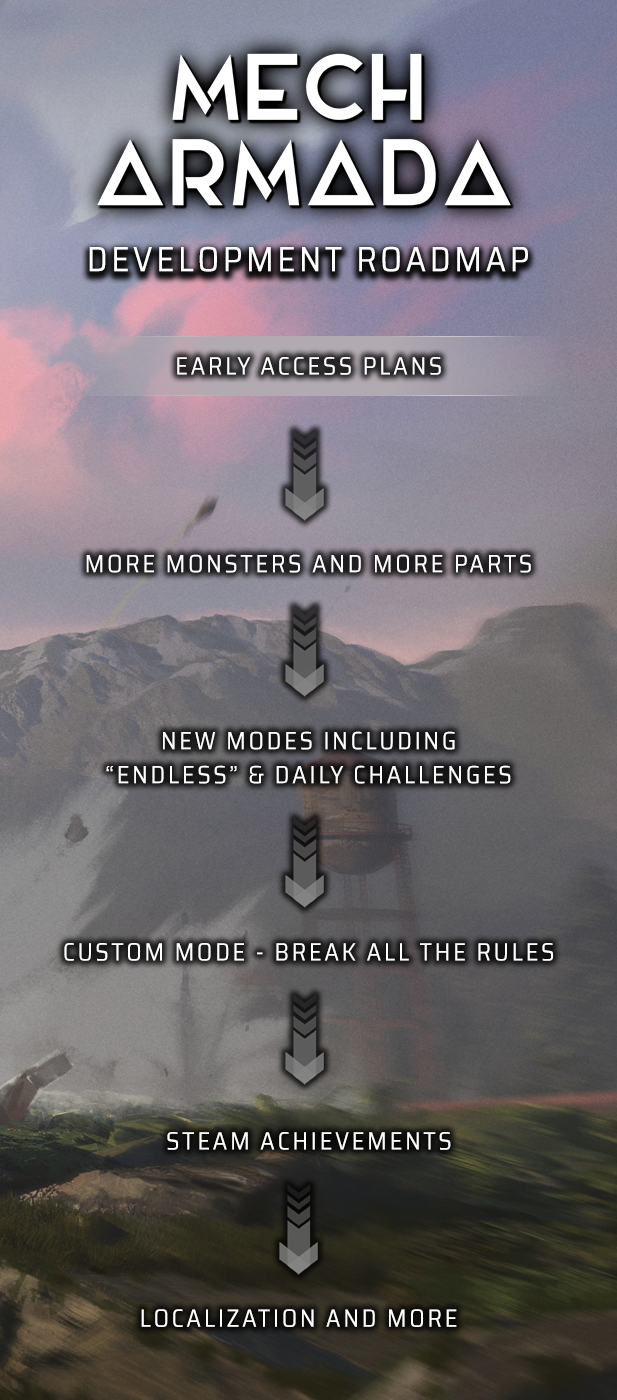 About the Game
The world as we knew it ended when the Swarm came. Hordes of terrifying creatures out of our worst nightmares ravaged the Earth, destroying every living thing in sight.
We few survivors fled underground, desperately searching for the tech and resources to survive - and fight back. To battle the monsters we created an armada of war machines called Mechs.
Thanks to ground-breaking replicator tech these Mechs could be generated almost instantly in the battlefield, turning the tide of what seemed to be an unwinnable war. As we pushed back, we used every resource to power our way forward to destroy the Swarm.
Mech Armada puts you in command of a team of custom-built Mechs. Push your strategic skills to the limit in this fresh combination of turn-based tactics, roguelikes and deckbuilding, as you save what's left of the Earth from the Swarm.
You'll need to plan carefully if you want to overpower the invading Swarm in a series of small tactical battles. Upgrade and build your deck of available Mechs, manage your resources and leverage your territory wisely. Get it wrong and it's game over. Start again with a whole new experience as monsters, maps, resources and rewards are all randomly generated.
Key Features
Turn-Based combat: You can move into position and attack with each of your mechs, in any order. Then it's the Swarm's turn...

Design your own mech: With 70+ available Mech parts, you can create thousands of unique combinations. Each part has its own strengths and weaknesses, giving you an enormous range of possibilities.

Deep strategic combat: There are no perfect solutions. Create your own strategy by cleverly making the most out of your resources and the situation.

Procedurally generated: All the gameplay elements (monsters, maps, resources and rewards) are randomly combined and balanced ensuring no two battles are the same.

Rogue-like campaign: Death means game over. Try again with an entirely new run, with new random parts and encounters. You'll have to make do with what you get!

Environment variety: From the outskirts of destroyed cities, to desert wastelands, the battle for survival rages on.

Epic bosses: They're massive, ugly and ridiculously tough. Are you up to the task?

Auto-save: Never worry about saving again. Leave your game at any point and return exactly where you left off.
System requirements
Minimum:
Requires a 64-bit processor and operating system

OS: Windows 7 (64 bit)

Processor: Dual Core 2.66GHz (64 bit)

Memory: 4 GB RAM

Graphics: Radeon HD 7770, GeForce GTX 460 or better

DirectX: Version 11

Storage: 6 GB available space