---
---
GigaBash (New Steam Account Global)
You get your own completely new account with the game GigaBash. It is possible to change all access to your Account Steam + EMail. Full access.
After payment you will receive access to your account and access to email, on which the account was registered.
No one has installed the game on the account before. Brand new account.

After centuries spent slumbering in the bowels of the earth, the primordial beasts known as Titans have awoken. Now they must battle humanity - and one another - for total world dominance.

GigaBash combines the chaos and creativity of titles like Power Stone, Super Smash Bros Ultimate and War of Monsters with the jaw-dropping scale of the classic kaiju movies. Play as either a rampaging Titan or a Titan-hunting mecha; summon lightning from the heavens, use a radio tower as a baton, or roll a whole district (and your enemies) into a single massive snowball. Wreak enough havoc and you'll evolve into your final form, the terrifyingly titanic S-Class.
UNLEASH THE BEAST
Choose from a colourful roster of 10 unique characters in Battle Mode, each with their own moveset and playstyle. Can you master them all?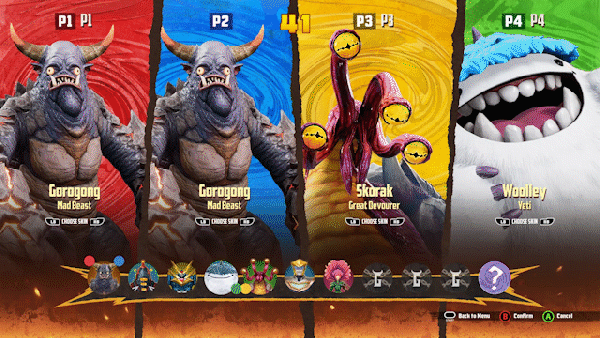 STOMPING GROUND
Dive into a fun frenetic free-for-all with as many as four other players, duke it out in Battle mode, or pair up in 2v2. Wage war around the world - from cityscapes to exotic locales, nowhere is safe from the wrath of the Titans!
HOMEFRONT
Hop on the couch to challenge up to three friends with local multiplayer. Nobody home? No problem, just head online!
EASY TO LEARN, TRICKY TO MASTER
Time your attacks, block your opponents, use grabs and specials and build that meter to reveal your final form!

CLASH OF THE TITANS
Discover the origins (and misadventures) of the Titans in four unique single-player campaigns, each with their own oversized protagonist.
HALL OF THE ALPHAS
Go head to head in Duel mode, challenging another player to see who is the true King of the Titans.
MULTIPLAYER MAYHEM
Experience the ultimate party mode with a variety of minigames designed for maximum fun. Only available in local play.

System requirements
Minimum:
OS: Windows 10 (64 bit)
Processor: Intel Core i3-4160 @ 3.60GHz
Memory: 6 GB RAM
Graphics: NVIDIA® GeForce® GTX 480, GTX 570, GTX 670, or higher
DirectX: Version 11
Network: Broadband Internet connection
Storage: 15 GB available space
Sound Card: DirectSound compatible (DirectX® 9.0c or higher)
Additional Notes: This game supports XInput- and DirectInput-compatible USB controllers (inc. arcade sticks), such as Xbox 360 controller, Xbox One controller, Steam Controller and the DUALSHOCK wireless controller. It also supports keyboard but not mouse.