---
---
Frontier Pilot Simulator (New Steam Account Global)
You get your own completely new account with the game Frontier Pilot Simulator. It is possible to change all access to your Account Steam + EMail. Full access.
After payment you will receive access to your account and access to email, on which the account was registered.
No one has installed the game on the account before. Brand new account.
Coming 7 December
The new price for the game will be $29.99, starting from the 1st of January, 2022
About the Game
FPS is a Sci-Fi cargo pilot sim, with an engaging emergent mission-driven storyline, with a real-time economy with free flight and trading, on an alien world to explore. All in customizable and upgradeable, well-simulated VTOL craft with realistic weather conditions and flight dynamics. Your endurance, flight skills, and nerves will all be pushed to their limits. If you are ready to be part of the frontier pilot family, get behind the control wheel and prove it!

Starting with only a small ship and a few credits, players do whatever it takes to earn the skill, knowledge, and wealth to be called Frontier Pilot. The Player's actions influence the unique connected gaming experience and game world. Bases build and destroy, the planet crumbles and reborn, world changes, smuggling booms, all by players' actions.
Blaze Your Own Trail
Upgrade your ship and customize every component as you explore, fight, smuggle, trade and survive on the cutthroat planet. Do whatever it takes to earn the skill, knowledge and wealth to stand among the frontier pilots.
Your Aircraft
Scarab: VTOL/STOL/CTOL Light Transport vehicle

OX: VTOL/STOL/CTOL Middle Transport vehicle

Ballena: VTOL/STOL/CTOL Heavy Transport vehicle
100's upgrades for each ship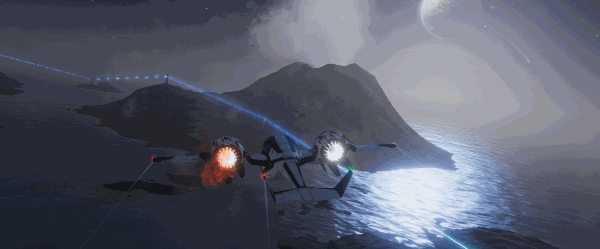 Unique game experience
Bases build and destroy, the planet crumbles and reborn, world changes, smuggling booms, all by players' actions. The player influences planet and handcrafted, evolving narrative.



World of Frontier Pilots
Take advantage of the Frontier pilot simulator by joining our online community on discord, our center for virtual pilots all around the world interested in Frontier pilot simulator and future Razar sci-fi flight simulators.

Capture the best moments and share them with hundreds of people who love sci-fi flights.
Discuss the game and get help from experienced players.
Pass tests and get ranks in Frontier Pilot Simulator Discord channel.

To join the Frontier Pilot channel, simply follow the link and sign up with your Discord account.



What people say about Frontier Pilot Simulator
This is a great game. It is an early version, so it has its flaws, but my god, it makes you feel like a real FRONTIER pilot. - Flanker, Steam

As a long-term Flight Sim enthusiast, I`m quite impressed with this Early Access title.. Its fun to just fly around enjoying the landscape, and you do get the feeling of flying in an unusual stormy atmosphere, (lots of wind, geysers & volcanoes etc to deal with..). - Demo, Steam

System requirements
Minimum:
OS: 32/64-bit Windows 7
Processor: i3
Memory: 16 GB RAM
Graphics: GeForce GTX 960
DirectX: Version 11
Storage: 5 GB available space
Sound Card: Any built in
Additional Notes: Internet connection required
Steam Account
ACTIVATION
1. After purchase, expect a message from the seller:
a) full access to the email to which the account was registered
b) full access to the new account
2.Go to: http://store.steampowered.com/ and download STEAM client
3.Click "Install Steam" (from the upper right corner)
4.Install and start the application, login with your Account name and Password that the Site-Games.Com sent.
5. The game will be in the Library section. Click Install and follow the Steam instructions.