---
---
---
EVERSPACE 2 (New Steam Account Global)
You get your own completely new account with the game EVERSPACE 2. It is possible to change all access to your Account Steam + EMail. Full access.
After payment you will receive access to your account and access to email, on which the account was registered.
No one has installed the game on the account before. Brand new account.
You will have the opportunity to play the purchased game on your personal Steam account through the Family module.
ABOUT THIS GAME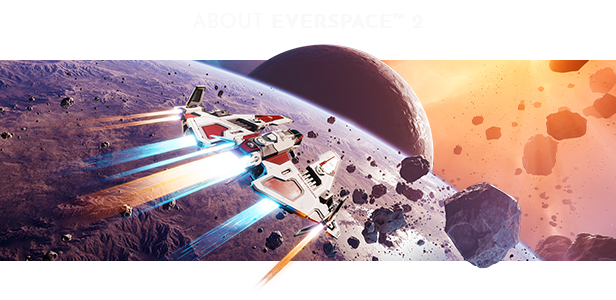 EVERSPACE™ 2 is a fast-paced single-player spaceship shooter with deep exploration in space and on planets, tons of loot, RPG elements, mining, and crafting. Experience a thoughtful story, set in a vivid, handcrafted open world full of secrets, puzzles, and perils.

In the campaign, you will make some friends with their own story to tell. They will join you on side missions and provide certain benefits in the endgame, where vicious encounters and brutal challenges will stand between you and that next epic loot drop.




Discover alien species, unveil mysteries, find hidden treasures, and defend your valuables against outlaw gangs. But don't get cocky: there will be some high-risk/high-reward areas waiting for you where grabbing that ultra-special gear and getting out alive will require some serious piloting skills and all your talent for improvisation.




Annihilate your foes the EVERSPACE™ way: Dodge, dash, roll, and boost guns blazing into frantic dogfights, leaving only a trail of space scrap behind. Use a wide range of weaponry and abilities to defeat a large variety of opponents like drones, fighters, heavy bombers, and powerful gunships all the way to massive capital vessels. Always look around and use your environment to your advantage, and gain the upper hand even if you are outnumbered.




Enter the world of EVERSPACE and explore it at your leisure. Cluster 34 is brimming with main and side missions, activities, events and secrets to be uncovered. So fire up your hyperdrive and shape your legacy among the stars.



Expand your private ship collection from a virtually endless supply of ships, composed of various unique ship classes and optimize your build to perfection. Cleverly combine modules, weapons, devices, and perks to fit your individual playstyle and the current objective.



Hunt for the next better gear and be ready to constantly re-evaluate your current setup. Look for loot that fits your playstyle but be willing to leave your comfort zone and try something new. Be ready to find and exploit synergistic effects between equipment, perks, devices, and ships to fully maximize their potential.



Roam the world looking for the best deals on certain commodities, becoming the part-time trader you always wanted to be. However, prices will vary based on supply and demand, so you better check about the latest offerings before you set course to the next trading station. Always be on the look-out against ambushes during interstellar travel.



System requirements
MINIMUM:

Requires a 64-bit processor and operating system
OS: Windows 10 64-bit
Processor: Intel Core i5-2500K@2.9GHz or AMD FX 6300@2.9GHz
Memory: 8 GB RAM
Graphics: Nvidia GeForce GTX 780 (3 GB) or AMD Radeon R9 290 (4GB)
DirectX: Version 11
Storage: 50 GB available space
Steam Account
ACTIVATION
1. After purchase, expect a message from the seller:
a) full access to the email to which the account was registered
b) full access to the new account
2.Go to: http://store.steampowered.com/ and download STEAM client
3.Click "Install Steam" (from the upper right corner)
4.Install and start the application, login with your Account name and Password that the Site-Games.Com sent.
5. The game will be in the Library section. Click Install and follow the Steam instructions.