---
---
Crypto Miner Tycoon Simulator (New Steam Account Global)
You get your own completely new account with the game Crypto Miner Tycoon Simulator. It is possible to change all access to your Account Steam + EMail. Full access.
After payment you will receive access to your account and access to email, on which the account was registered.
No one has installed the game on the account before. Brand new account.

Crypto Miner Tycoon Simulator™ is a complete simulation of the cryptocurrency mining business. There are multiple scenarios available. In the first one, you start as a teenager whose wealthy father is hyped about digital currency. He isn't really tech savvy, so he gives you some cash and challenges you to build a crypto mining business:
Relive mining history
Start in your bedroom in 2010
Historically accurate coin exchange rates
Various events including new hardware unlocks
Speed up the game clock up to 28800x


The game uses real prices for coins, but your actions can change the course of history. For example, you can set up a PR department that will influence the media and hype some coins up or down.
Build mining rigs
Assemble rigs from PC parts
Install software
Use racks to organize space and direct heat
Replace broken parts and outdated components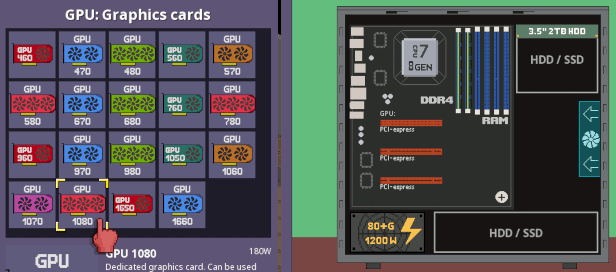 A custom C++ game engine was written specially for this game in order to support 1000's of mining hardware units per facility.
Mine coins
Play through the CPU, GPU, FPGA and ASIC mining era
Mine Bitcoin, Ethereum and more...
Realistic network hash rates
Manage power, heat, noise, dust

Build datacenters with cooling systems and low dust levels. Keep noise down in research labs.
Manage your company
buy or rent new offices
hire people
set work shifts and task priorities
pay monthly bills and wages


You can unlock overtime work by upgrading your management skill or hiring professional managers.
Research
develop employee skills
create research labs
discover new technology before competition
create your own coin and launch the ICO

Each game scenario has a special research goal related to the story.
Customization
Customize your character
Set dress code for employees
Use whichever currency you like ($, GBP, EUR, RUB, CNY…)
Imperial and metric system supported


What are you waiting for?

The best time to start mining was 10 years ago.
System requirements
Minimum:
Requires a 64-bit processor and operating system
OS: Windows 7 or newer
Processor: i3 or equivalent
Memory: 2 GB RAM
Graphics: 512MB Video RAM, OpenGL 1.1+
Storage: 1 GB available space