---
---
Corg of the Dead (New Steam Account Global)
You get your own completely new account with the game Corg of the Dead. It is possible to change all access to your Account Steam + EMail. Full access.
After payment you will receive access to your account and access to email, on which the account was registered.
No one has installed the game on the account before. Brand new account.

STORY
The society you are a part of is not long for this world. A great evil is turning man and beast alike into undead abominations. Our tale begins in an elegantly furnished castle, where two warriors who were bred for generations to serve, must do the unthinkable. Even though the odds are stacked against them, they will do what they know is necessary to protect their Master, the Queen.
Two playable "Corgarriors", corgis armed to the teeth to protect Her Majesty, will traverse unique areas filled with dread as they try to hold on to what remaining hope they have. Fight against the undead hordes on the streets, highways and forests of Washington D.C, you will discover greater abominations as the story unfolds.

FEATURES

- Single Player, sidescrolling, shooting, and brawling game with alternating characters
- Destructible environments with improvised weapons
- Five Unique areas with their own artwork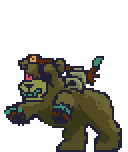 - Hordes of zombies and with bosses unique to each area to do battle with.
- Voiced cut scenes
- Retro styled action music
DEFAULT CONTROLS
Movement - Arrow Keys or D Pad
Melee - A key, (X) button, or (□) button
Shoot - S Key, (Y) button, or (△) button
Swap Characters - W Key, (A) button, or (x) button
Pick Up Melee Weapon (currently Oda only)- D Key, (B) Button ,or ○ button
Open Inventory/Pause - Space, START button, Options Button
Throw Grenade - Q Key, LB, L1
System requirements
Minimum:
OS: Windows 10

Processor: I5

Memory: 8 GB RAM

Graphics: Nvidia 1060

Storage: 2 GB available space