---
---
City Game Studio: a tycoon about game dev (New Steam Account Global)
You get your own completely new account with the game City Game Studio: a tycoon about game dev. It is possible to change all access to your Account Steam + EMail. Full access.
After payment you will receive access to your account and access to email, on which the account was registered.
No one has installed the game on the account before. Brand new account.
January 1975, you've just created your own video game company. You are renting a tight place that allows you to develop your first game. Quickly, your games are successful and you already have to move, but it is up to you to cross the city to pick your next local. In the blink of an eye you are hiring artists to improve the visual aspect of your games. Next came developers and then testers.
But a problem remains, even if your games are brilliant, you don't have enough fans to self-publish a big game to make your studio profitable. You will have to turn to video game editors who will carve out the lion's share. Chaining successes is the only way of getting rid of the publishers. Furthermore you will be able to publish your own publishing contracts. Then you will then be ready to dominate the market and buy back your competitors.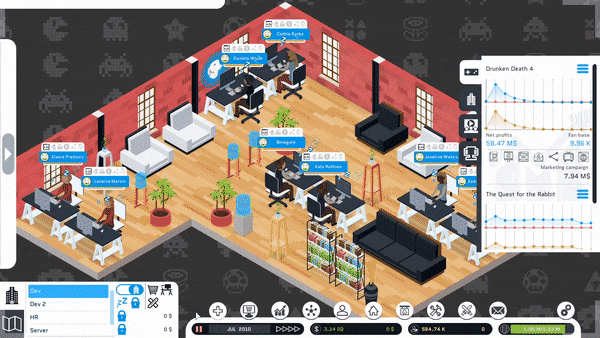 Feature list
Develop or rent game engines

Receive/publish game offers

Buying or renting several buildings

Develop and manage a digital store

Cracking competitors' games

Unlocking new game genres

Spy the competitors

Hire staff

Organize marketing campaigns

Organizing and attending conventions

Buy out companies

Executing contracts that trains your employees

Porting games to several consoles

Design your company logo

Manage your employees' schedules

Get awarded Game of the Year

Microtransactions

Console exclusive game

Lootboxes

Have a good time
This game doesn't have
eSport competitions

An R&D department

A multiplayer mode
City Game Studio is inspired by marvelous games like
Game Dev Story

Game Dev Tycoon

Software Inc

Sim City

Mad Games Tycoon
Join Us On Discord

Community Localisation
ATTENTION
: Some of our localizations were made by our ❤️ community.
Check the current translations of your language
to make sure the game is localized far enough for you to enjoy.

System requirements
Minimum:
OS: Windows Vista, 7, 8, 8.1, 10

Processor: Single Core

Memory: 2 GB RAM

Graphics: OpenGL 3.0 (1280x720)

Storage: 512 MB available space

Sound Card: Stéréo
Steam Account
ACTIVATION
1. After purchase, expect a message from the seller:
a) full access to the email to which the account was registered
b) full access to the new account
2.Go to: http://store.steampowered.com/ and download STEAM client
3.Click "Install Steam" (from the upper right corner)
4.Install and start the application, login with your Account name and Password that the Site-Games.Com sent.
5. The game will be in the Library section. Click Install and follow the Steam instructions.