---
---
---
Stronghold: Warlords (New Steam Account Global)
You get your own completely new account with the game Stronghold: Warlords. It is possible to change all access to your Account Steam + EMail. Full access.
After payment you will receive access to your account and access to email, on which the account was registered.
No one has installed the game on the account before. Brand new account.
You will have the opportunity to play the purchased game on your personal Steam account through the Family module.
ABOUT THIS GAME



For the first time ever Stronghold: Warlords allows you to recruit, upgrade and command AI lords across the battlefield in the form of in-game 'Warlords'. Each warlord under your command boosts your strategic prowess with unique perks, characteristics and upgradeable abilities. Put them to work for your industry, fortifying borders, forging weapons or team up for a pincer attack! Each campaign mission, skirmish game and multiplayer battle means a fresh set of warlords to command and a completely new way to play Stronghold.





The next chapter in Firefly Studios' real-time strategy series, Stronghold: Warlords is the first game to recreate the castle economies of East Asia. In Warlords players take command of Mongol hordes, imperial warriors and samurai clansmen as they lay siege to Japanese castles and fortified Chinese cities. Besiege historical warlords using new gunpowder-fuelled siege weapons and classic units across 31 campaign missions, multiplayer, skirmish and free build modes.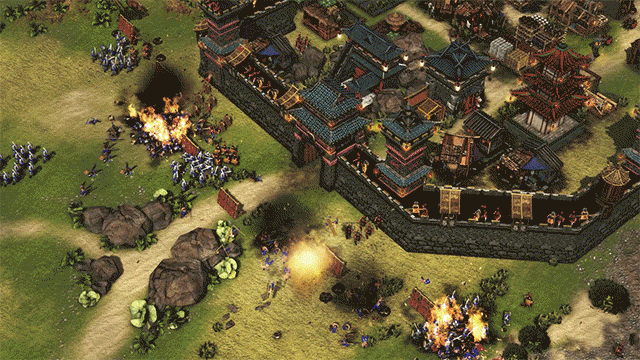 CONQUER AND COMMAND WARLORDS across the battlefield unlocking more powerful castles, armies and abilities.
RELIVE HISTORICAL CAMPAIGNS from 3rd century BC China, to the rise of the Tokugawa shogunate and coming of the Mongol Empire.
RECRUIT NEW UNITS including imperial fire lancers, disciplined samurai, Mongolian horse archers and deadly ninja.
RAZE YOUR ENEMIES with the arrival of gunpowder and new siege weapons like the hwacha arrow launcher, siege tower and fire oxen!
BECOME THE GREATEST LORD through fear or admiration using a range of medieval entertainment, taxation and torture.
System requirements
MINIMUM:

OS: Windows 7/8/10
Processor: Intel i5-3330 3.0Ghz or AMD equivalent
Memory: 8 GB RAM
Graphics: nVidia GeForce GTX 680 or AMD Radeon HD7970 (2 GB VRAM)
DirectX: Version 9.0c
Network: Broadband Internet connection
Storage: 6 GB available space
Steam Account
ACTIVATION
1. After purchase, expect a message from the seller:
a) full access to the email to which the account was registered
b) full access to the new account
2.Go to: http://store.steampowered.com/ and download STEAM client
3.Click "Install Steam" (from the upper right corner)
4.Install and start the application, login with your Account name and Password that the Site-Games.Com sent.
5. The game will be in the Library section. Click Install and follow the Steam instructions.